Welcome to Florida Lifestyle Vacations
Caliente Tampa Resort
Caliente Resort in Tampa, FL, opened in 2004 and instantly set new standards in the Clothing Optional Luxury Vacations industry!
The resort lies on a private, 125-acre estate, located 25 miles north of the Tampa Airport. The resort's design, which features a TWO mile nature trail, blends harmoniously with the natural tropical landscape. This is perfect for those in the Lifestyle that enjoy walking, jogging and cycling. Caliente in Tampa is a completely self-contained resort that includes shopping, restaurants, bars, entertainment facilities and various activities, all without ever having to leave the resort! Not to mention their two HUGE conversation pools and various other pools and hot tubs.
This is the most luxurious clothing optional experience, with the ENTIRE resort being clothing optional or full nude. Whether you are a nature enthusiast, fitness guru, or just looking to discover a much more bold side of yourself, we have everything you want to create the ideal adventure for you!
Whether you are a seasoned nudist, a first-time nudist, or lifestyle swingers our Tampa resort will embrace you with gorgeous clear blue water and beautiful sunny skies. Caliente is an enchanting blend of seclusion, excitement and sizzle that is ideal for just about anyone.
You will have endless opportunities to meet like-minded people and make new friends with one of our many vacation Groups, while enjoying fabulous discounts! Inside the Caliente Tampa resort, you will be indulged, wined, dined, and treated with world-class compassion you so abundantly deserve.
Caliente's stunningly appointed accommodations will become your private home away from home for however long you stay, whether it be but a week or two, yet the memories will last for a lifetime.
Just beyond your door, beautiful turquoise lagoons, a tranquil sapphire lake, sports and fitness centers, tiki bars, decadent dining, and the luxurious Spa Sereno are just a few of the many opportunities that will entice you.
Caliente's Clubhouse is an astounding 33,000 Square Feet!
The renowned Spa Sereno boasts a 4,500 sq. ft. luxury spa featuring ELEVEN treatment rooms; massage and facial specialties; hand and foot care; hydrotherapy; exotic body treatments.
Food and Beverages are served from our TWO restaurants and FOUR bars.
Prominent Night Club which has cutting edge audio and video systems.
Elite Fitness Center with personal training, a variety of classes, sauna and steam baths.
Our very own NEW FAIRVILLA adult store featuring adult toys, Caliente logo items, club and casual wear, and much much more!
The Amenities Area is an astonishing 16 Acres!
SEVEN Pools encompassing a Quarter Acre lagoon pool with TWO islands and grotto waterfall; TWO large hot tubs; TWO 50 Person plus conversation pools.
Recreational Activities consist of TWO sand volleyball courts; TWO water volleyball pools; SIX tennis courts; FOUR Pétanque courts; TWO shuffleboard courts; Basketball court.
Other Amenities include a library, launderette and an on-site ATM machine.
There are also FOUR golf courses within 20 minutes of the Caliente Tampa Resort!
Caliente Events
There are events ranging from Car Shows, to Bands, to full blown lifestyle swingers events. So check the schedule of events carefully to find the dates that interest you most.
Caliente's Clothing Optional Nude Pools
If you've never been to Caliente near Tampa, the first thing you have to do after checking in at the beautiful club house is walk out it's back door and take in the beautifully tropical decorated pool area.
The massively huge main clothing optional pool has a beautiful cave like grotto with a waterfall that pours down over it. It's a great spot if you want to have a nice conversation just between your selves or just waiting for a passing raincloud to go by, if you know anything about Florida they do get random afternoon showers in the summer. Caliente also has a DJ every day at the pool for music and entertainment.
The nude hot tubs are located one level up from the main pool, and of course their nice for when the air may be a cool and you don't want to get in the pool but you still want to hang out with the others in the pool area.
At night the nude hot tubs are a really popular hangout area. Many lifestyle swingers also like to meet up a the hot tubs at night. After dinner usually everyone then starts gathering up and goes to the night club, after the night club starts to slow down for the night a lot of the people are still not done having fun so they all congregate to the hot tubs because it's a nice warm spot to chill.
There is also a separate pool if you want to play clothing optional water sports such as volleyball.
The pool area has two bars, one is a tiki style bar which is shaped in a circle with some tables and chairs off to the side. The other bar is a sports bar which is nice and air-conditioned so you can grab some food and drinks and catch a break from the sun for a little bit.
The entire resort is clothing optional which means the entire pool area is also clothing optional, however most people throw something on if they are going to go in the bars.
Caliente's Restaurants and Bars
Caliente restaurants range from a burger at one of the bars to fine dining. Whichever you decide the food at Caliente is always delicious.
In their Café Ole' you can choose from a great variety of breakfast dishes which includes omelets, eggs benedict, breakfast burrito, pancakes, waffles, French toast, cereals and even a combo plate of breakfast meats, eggs, pancakes and toast.
On Caliente's Cantina menu offers there are some great options of bar food such as chicken wings, loaded French fries, nachos, fish tacos, beer battered onion rings and more. If you are looking for more than just a snack you can chose from their list of sandwiches including several different burgers and cheeseburgers, Philly cheese steak, chicken breast, traditional or grouper reuben, tuna, chicken and bacon wrap, veggie wrap, grilled cheese and more. The menu also includes several salads, a diner menu, and a list of mixed drinks and bottled and caned beers, and wines.
There is also a tiki bar poolside where you can grab drinks and food to take back to the pool and enjoy.
There is also a cab in the nightclub that serves drinks, beer and wine along with nonalcoholic drinks.
Caliente's Spa
No relaxing vacation is complete without a rejuvenating massage or manicure, or maybe even a facial. Caliente's Spa Sereno offers an abundance of beauty and relaxation packages, so no matter what you prefer they are sure to offer it.
Choose from one of Spa Sereno's massages. Their specialty massages very from a bamboo fusion massage, Stone massage, energy balancing and cleansing massage, and post life regression therapy. Their Signature massages offer couples massages, 4 handed massages where you have two certified massage therapist at once. You can also get massage Tapas or what I would like to call ale cart where you can get just your neck, back and shoulders done, or hand and foot, or just hand or foot.
The waxing packages consist of bikini area, arms, under arms, legs, full face, Brazilian for women and also men, also chest and back for men. Note that there is a clipper fee if the hair needs to be trimmed before the waxing can be performed.
You can get your makeup done whether it's to go out to dinner or party or you just feel the need to look extra pretty, they also do bridal makeup. They start with a consultation and color matching for a perfect application. The makeup section also offers applications for body crystal work and eyelashes, also tinting for eyelashes and eyebrows.
The facials range from Anti-Aging, Serum Facials and Peels. You can also add to your package extras such as eye treatment, limited peel and microdermabrasion.
No spa would be complete without manicures and pedicures. They offer polish changes, French manicure, moisturizing treatments, gel applications and more.
Permanent makeup can be done to your eyebrows, eyeliner can be done on both or just upper and lower eye's, and full lips.
Caliente Timeshare and Resort is located in Land O Lakes Florida near Tampa where there are miles of beautiful beaches, dining, shopping, casinos and even just a beautiful view. And since Caliente is a family friendly resort you can consider going to one of Florida's world famous theme parks which are within an hour or two depending on which one you would like to visit.
Caliente Resort in Florida is set back on 100 acres with complete privacy, so you may walk anywhere around the resort nude and no one from the general public can see you.
The Resort Offers Four Different Types of Living Accommodations:
Hotel Rooms
(These are the rooms provided for the Special Deal listed on this website.)
The spacious hotel rooms at Caliente are equipped with your basic amenities such as a king size bed, coffee maker, television, mini fringe, microwave, ice bucket, and a clock radio.
The hotel has two levels, the bottom level has a screened in porch and the top level has a balcony.
The benefit of the hotel rooms is that they are close to the clubhouse, and you get a view from the back of the pool area.
NOTE: The hotel is where you will get to stay for your presentation reservation.
Casitas
The casitas are a small bungalow with one bedroom, a kitchen area, living room area, and a porch (the deluxe casitas have additional room space instead of a porch).
Unlike a regular hotel where you get the basic amenities the purpose of the casitas is to replicate more of a day to day living environment because they come with a refrigerator to stock your own food (there is a Publix grocery store just down the street), a stove, microwave, and cooking and eating ware.
The bedroom in the casitas have a queen bed, and for additional bed space the sofa in the living room area has a queen size pull out bed.
These casitas at Caliente are great for two couples if they want to vacation together in the same space, or for people that are bringing their family.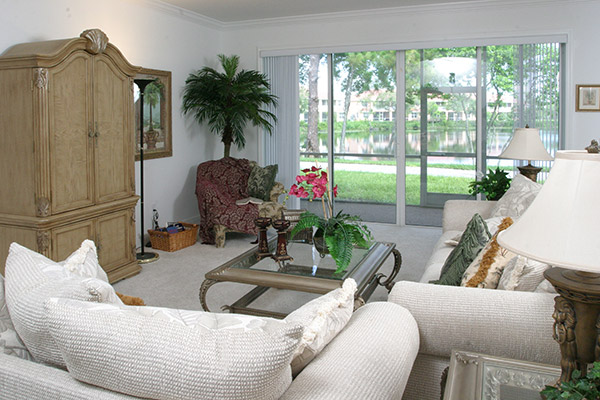 Condominiums
Caliente's condos are very spacious with a more homelike feel which you can get in 800 or 1,200 square feet of space. Both of the condos come with either a screened in porch if you're on the lower level, or a balcony if you're on the second floor, a living room, dining area, and the kitchens fully equipped with a refrigerator to stock your own food (there is a Publix grocery store just down the street), a stove, microwave, and cooking and eating ware.
The 800 square foot condo has one bedroom with a queen size bed, this condominium can house up to 4 people using the sofa's pull out bed.
The 1,200 square foot condo has two bedrooms each with a queen size bed, this condo can sleep up to six people, which like the 800 square foot unit the sofa has a pull out bed.
The deluxe condos come with all the same amenities as the other condominiums; however these come with a king size bed, and a washer and dryer.
Town Homes
Caliente's town homes also known as villas are two story very homelike and luxurious homes.
These villas come with a two car garage, and have 2,200 square feet of complete living space. They also have a screened in patio with the view of a pond.
The lower level has a large living room area, dining area, half bath, and a fully stocked kitchen with a refrigerator to stock your own food (there is a Publix grocery store just down the street), a stove, microwave, and cooking and dining ware.
On the second floor of this gorgeous town home's spacious master bedroom there is a screened in balcony in which you can see the pond.
The master bath has a large walk-in shower, Jacuzzi bath, two separate sinks, and a bidet alongside with the toilet.
The other two additional bedrooms have a queen bed and share a full bathroom. So in total these condos can house up to six people.
On the second floor of these town homes is also a laundry area.
RV Parking
If you do not wish to stay in one of these other featured living accommodations then you can bring your own.
Caliente has an RV Resort amongst the Casita housing. The lots offer the basics for RV living such as electric, water and sewer, trash service and cable TV.
Caliente prides themselves in keeping the grounds clean; therefor they have some strict guidelines for campers and their RV's. You need to make sure that you keep your area clean at all times with no leaving trash laying around outside the RV, or hanging anything like towels and clothes on a clothesline, minding your pets such as leaving a dog to bark while you leave the area, also cleaning up after your pets because no one wants to look at that if you know what I mean.
As for the RV's there are strict rules, after all they want to keep the place a luxurious resort and timeshare. Caliente will not allow RV's that are older than a 1996 model unless it has been very well kept, then the resort holds the right to determine if you can park the RV there. Also vehicles that have been altered into an RV are not permitted. Storing items under the RV is permitted.
As you can see they have some tight rules, however it benefits everyone in the end. Before booking an RV spot, you should really take a good look at your RV and if you see anything that may be questionable call the resort and ask because it would be a shame to come all that way and then find out you can't stay.